Marine Audio is HERE!!
By Joe S. on 2016-05-23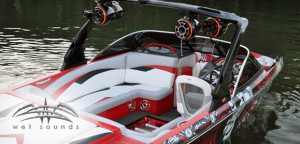 As the season starts again in the Chicagoland area the question starts 'What kind of boaters are you?" As there are different kinds of boats, so sweeping generalizations are worth about as much as a fishnet windsock. That said, if you see a little bit of yourself in this profile, it might help you create the perfect marine audio system. Just Basic, Fisherman, Boat Party or Fast & Loud? We have all the best names in the Marine Audio Industry as WETSOUNDS, Fusion, Kenwood, Alpine & Pioneer. When your looking to just replace a few speakers & upgrade your headunit & you're seriously into audio, we carry a vast array of outstanding gear that will make your boat sound great. But for some people, a receiver and a decent set of speakers will do. For the avid fisherman we don't have scientific proof of this, but we're pretty sure that screaming speakers and thumping subwoofers do not attract fish. If you're more concerned with what's biting than what's playing, your boat doesn't need to be an audio powerhouse. For the Big Boat Party sometimes we just want more sound, more bass & want better control. Wetsounds has the best of these features & works incredibly well with tower speakers, led light speakers, & exceptional sound bar-none!