If you're ready to upgrade your vehicle's sound system or you're looking for a brand-new car alarm to keep your vehicle safe, Automotive Concepts is here to provide you with top-quality mobile electronics installation. From car audio and mobile video to marine electronics and navigation systems, we're the Chicago area's answer for great vehicle comfort, safety, and security. We provide service for cars, trucks, boats, motorcycles, and RVs, so you can turn to us for all of your mobile electronics needs. No matter what type of car stereo or video system you want to rev up your driving experience, we'll be able to deliver impeccable results for an affordable rate.
Call or e-mail us today to find out more about your options for mobile audio and video systems!
Family-Owned Company
Free Estimates
Licensed and Insured
Lifetime Labor Guarantee
Mobile Audio Experts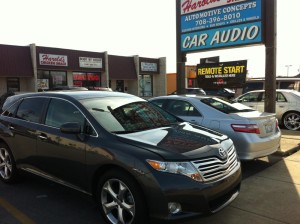 Conveniently Located in Crestwood
Located in Crestwood, IL just 1/2 mile south of Interstate 294 on Cicero Avenue, Automotive Concepts provides quality car audio and mobile video systems to local drivers. We also provide car audio electronics and more to customers in Chicago, Chicago Heights, Joliet, Frankfort, Summit, Calumet City, Cicero, and Brookfield. When you need car alarms, remote starters, car DVD players, or other electronics for your vehicle, we're the source that you can trust to provide you with top-notch products and installation at a price that you can afford.
As a family-owned company, we're committed to offering our customers fair prices on all mobile electronics components as well as precision installation, so you can turn to us when you're ready to add a little something extra to your vehicle without the fear of going over budget. If you want to get a handle on what your costs will be before you decide on which equipment you're going to add to your vehicle, we provide free estimates to all of our customers. 
Professional Installation Workmanship
While choosing great mobile electronics is part of making your vehicle safer and more comfortable, great installation is essential if you truly want to enjoy these products and get the most out of them. When you turn to Automotive Concepts for remote starters, car alarms, and other great additions to your vehicle, you can rest assured that you'll get impeccable installation from our team.
Our licensed and insured technicians have 20 years of experience providing drivers with car audio/video systems and other electronic accessories, and we'll use all of the expertise we've gained throughout the years to ensure that you get the results you deserve. What's more is that we offer a lifetime labor guarantee, so you never have to worry about inferior installation. If you're ready to improve your ride with car DVD players, navigation systems, and other aftermarket accessories, give us a call today.
We've got what it takes to ensure that your vehicle is more than just a mode of transportation. With our help, riding in your car, motorcycle, truck, or boat will be safe, comfortable, and a good time!
Experienced and Qualified Installers
For your peace of mind and security, Automotive Concepts is fully licensed and insured. We're also authorized BAID system installers, and we're proud to be affiliated with AAMP of America.